Jazz in Vienna
made by Manfred Kramlinger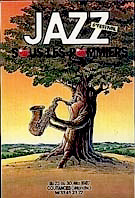 15th anniversary







I'm a 71 year old jazzfan,
born in Vienna and
I collect jazz music
since 1958.
I dedicate these websites
to all jazzfans,
especially in Vienna


This CD I bought in 2006


LITTLE JIMMY SCOTT
"If you only knew"

rec. 1955-1956







Last Update:
events: 01-09-2014
press gallery: 01-06-2014
music page: 01-07-2014
links: 13-06-2013


** Updated often, please bookmark **

You can access my website "Jazz In Vienna" also at the
following URL, if the server is too busy:
http://www.jazzpages.com/JazzinWien
Please bookmark this URL, too!




The Music Page
Music from my jazz collection:

JAMIE CULLUM & DIANA KRALL

Listen to the music




JAZZLAND presents:


1.9. Hans Salomon´s Big Band Machine
2.9. Triple Ace Trio
3.9. Wizards of Blues
4.9. Vienna Jazz Group
5.9. Original Storyville Jazzband
6.9. Benny Sharoni & Oliver Kent Trio
8.9. 4@tensions
9. - 10.9. Joe Haider Jazz Quartet
11.9. Piccadilly Onions
12.9. Riverside Stompers
13.9. Carole Alston & Markus Gaudriot Trio
15.9. Belle Affaire
16. - 17.9. Mojo Blues Band
18.9. Project Two
19.9. Leszek Zadlo European Quartet
20.9. Barrelhouse Jazzband
22.9. Dreamland Orchestra
23. - 27.9. Ed Metz jr.
23. & Joschi Schneeberger Quintet
24. & Markus Gaudriot Trio
25. & Christian Plattnert Quartet
26. & Red Hot Pods
27. & Herbert Swoboda Quintet
29.9. Vienna Jazz Orchestra
30.9. - 1.10. New Orleans Shakers



Preview:

7. - 11.10. Benny Golson & Oliver Kent Trio
22. - 23.10. Denis Gordon
31.10. - 1.11. Paolo Alderighi & Stephanie Trick

3.11. Doug Raney
4. - 8.11. Kevin Mahogany & Kevin´s Four
12. - 14.11. Dana Gillespie
15.11. Gary Smulyan
25. - 29.11. Diknu Schneeberger Trio











1.9. The Aristocrats
2.9. Claudia Carbo Quartet (D/PER/A)
3.9. Miss Moravia & Stadtkapelle Laa/Thaya
4.9. - 7.9. JazzWerkstatt Wien Vienna Roomservice #5
8.9. China Moses & Raphaël Lemonnier
9.9. Danilo Rea & Flavio Boltro 'Opera'
10.9. Reform Art Orchestra
11.9. Wawau Adler Trio
12.9. George Colligan Trio
13.9. Nagl/Gradischnig/Herbert/Vatcher
14.9. Claudio Bellavitis Quartet 'Jazz & Magic'
15.9. Die Strottern & Jazzwerkstatt Wien
16.9. Jazzator
17.9. Hannes Loeschel 'Exit Eden' feat. Phil Minton 'Songs of Innocence'
18.9. SexWithoutNailsBrosis plays Zappa 'Roxy & Elsewhere & More'
Wickerl Adam & Conrad Schrenk & SWNB play Zappa 'Roxy & Elsewhere & More'
19.9. Helge Lien Trio
20.9. Johannes Enders Quartet feat. Pablo Held & Nasheet Waits
21.9. Wolfgang Muthspiel / Larry Grenadier / Jorge Rossy
22.9. Christian Muthspiel 4 feat. Steve Swallow 'Seaven Teares
– A Tribute to John Dowland'
23.9. Son of the Velvet Rat
24.9. Gerhard Muthspiel & Amarcord Wien
25.9. Tango Jazz Quartet
29.9. Ken Vandermark / Elisabeth Harnik / Didi Kern
30.9. Billy Martin's Wicked Knee feat. Steven Bernstein

1.10. Peter Evans Quintet
5.10. Ed Partyka Jazz Orchestra
6.10. Die Happy & support
7.10. Grant C. Weston Trio 'Magic Hands'
8.10. Graewe / Reijseger / Hemingway '25th Anniversary Tour'
12.10. Simon Phillips 'Protocol II'
13.10. BAWAG P.S.K. Next Generation Jazz Award
14.10. John Scofield Trio feat. Steve Swallow & Bill Stewart
15.10. Terri Lyne Carrington 'Money Jungle'
17.10. Mario Biondi & High Five Quintet
18.10. Craig Taborn Trio
19.10. Christian Dierstein & Martin Brandlmayr
20.10. Die Strottern & Jazzwerkstatt Wien
21.10. Jaques Morelenbaum 'Cello Samba Trio' feat. Paula Morelenbaum
22.10. Scott Henderson / Jeff Berlin / Dennis Chambers 'HBC Super Trio'
23.10. Robert Cray Band
24.10. Lia Pale 'Gone Too Far'
25.10. Roy Hargrove Quintet
26.10. Portrait Mats Gustafsson Part I
Swedish Azz feat. Per åke Holmlander, Dieb13, Billy Roisz...
27.10. Portrait Mats Gustafsson Part II
Fire! / Fake the Facts feat.Erwan Keravec, Agusti Fernandez, Sofia Jernberg...
28.10. Portrait Mats Gustafsson Part III
The Thing feat. Ken Vandermark, Ingebrigt Håker Flatten, Günter Christmann...
29.10. Mary Halvorson Quintet
30.10. Niyaz feat. Azam Ali
31.10. Uri Caine & Han Bennink 'Sonic Boom'









1.9. Stephies Song Salon
Zwe

2.9. Tuesday Session mit Mara Kolibri
Zwe

3.9. Hannes Kasehs Bluessession
Louisiana Blues Pub

Let´s groove Jazz - Jamsession
Zwe

Blue Note Six
Martinschlössl

4.9. Thomas Gansch - Wolfgang Puschnig - Michael Hornek -
Robert Riegler - Agnes Heginger
Theater am Spittelberg

Alex Ehrenreich Big Band
Zwe

5.9. Swobodas Swing Trio
Zum Lustigen Radfahrer

Harri Stojka
Szene Wien

Eddie´s Swing Cats
Zwe

Bluessession
Bierkanzlei

Jazztime: Schlitzohriger Kammer-Punk-Jazz:
Edi Nulz zu Gast bei Andreas Felber.
ORF Radio Cafe

6.9. Boogie Woogie Piano Bottle
Christoph Steinbach , Johnny Schütten und Daniel Ecklbauer
Orpheum

s´FUNKtioniert
Zwe

Original Storyville Jazzband
Zur Schießstätte 17:00

7.9. V.S.O.P. Jazzband
Fischer Bräu 11:00

8.9. Hans Salomon: "Dazu möchte ich noch was sagen"
ORF Radio Cafe

9.9. Tuesday Session mit Julia Siedl
Zwe

Jazzsession
Cafe Concerto

Zipflo Weinrich Group
ORF Radio Cafe

10.9. Hannes Kasehs Bluessession
Louisiana Blues Pub

Let´s groove Jazz - Jamsession
Zwe

11.9. Phishbacher Acoustic Trio
Zwe

Hannes Kasehs Blues Trio
Cafe Ritter

12.9. Lisa Rabel Trio
Zum Lustigen Radfahrer

Gerry Höller Trio
Jazzcafe Bird

Running Hybrids
Zwe

Mojo Blues Band
Dancing Pö

13.9. Lionel Bozek Trio/Quartet
Zwe

Geoffrey Goodman King Bluesband
Cafe Falk

14.9. Classic Jazz Festival - Days of Swing & Wines
Diknu Schneeberger Trio
Stanton Bigband
Hot Jazz Ambassadors. u.v.a.
Metropol 14:00

Mojo Blues Band
Wimberger 12:00

Nut Jazz Five
Fischer Bräu 11:00

Project Two
Zwe

16.9. Tuesday Session mit Christian Salfellner
Zwe

17.9. Let´s groove Jazz - Jamsession
Zwe

Hannes Kasehs Bluessession
Louisiana Blues Pub

18.9. Jaqueline Patricio Trio
Zwe

19.9. Bluesmopolitans
Jazzcafe Bird

Robert Castelli´s Boom Quartet
Zwe

SPS
Simmeringer Bier- und Kulturschmankerl

Siggi Fassl
Louisiana Blues Pub

Bluessession
Bierkanzlei

20.9. Eddie Mayr
Zwe

Reinhard Micko Trio
Reigen

Katies Hot Four
Bierkanzlei

21.9. Blues Night
Abi Wallenstein, Charly Furthner Trio
Wizards of Blues, Crazy Hambones
Christian Sandera
Metropol

Leila´s Vocal Jam Session
Zwe

Susan Blake
Wimberger 12:00

Crazy Boogie Men
Fischer Bräu 11:00

Latin Four
Kulturstadl Essling

22.9. 4someBlues
ORF Radio Cafe

23.9. 4 Some Blues
Davis

Tuesday Session mit Lubomir Gospodinov
Zwe

Allemano - Weber - Reisinger
Blue Tomato

SPS
Martinschlössl

24.9. Let´s groove Jazz - Jamsession
Zwe

Hannes Kasehs Bluessession
Louisiana Blues Pub

25.9. Soul Club
Zwe

26.9. New Philadelphia Jazzband
Zum Lustigen Radfahrer

Susanne Plahl & Lightning Rod
Jazzcafe Bird

Millusion
Zwe

27.9. The Blue Stripes
Die Ausstellung

Johann Stojka Group
Jazzcafe Bird

Richard Oesterreicher Trio
Zwe

28.9. Project Two
Zwe

Boogie Woogie Gang
Wimberger 12:00

Honky Tonk Barflies
Fischer Bräu 11:00

30.9. Axel Zwingenberger
Davis

Tuesday Session mit Reinhold Schmölzer
Zwe

Johannes Thoma Acoustic Quartet
ORF Radio Cafe

The Clem Clempson Band feat. Chris Farlowe
Reigen







Preview more jazz events:


1.10. Hannes Kasehs Bluessession
Louisiana Blues Pub

Blues Note Six
Martinschlössl

2.10. Katharina Urban & Band
Bamkraxler

3.10. Sobczyk´s Blues Bunch
Zum Lustigen Radfahrer

Mojo Blues Band
Vorstadtbeisl Selitsch

Bluessession
Bierkanzlei

4.10. Sobczyk´s New Orleans Bunch
Zum Lustigen Radfahrer

5.10. Piccadilly Onions
Kulturstadl Essling

Burgundy Street Jazzband
Wimberger 12:00

7.10. The British Blues All Stars
Reigen

8.10. Paul Jackson Trio
Reigen

Hannes Kasehs Bluessession
Louisiana Blues Pub

10.10. Vienna Blues Association
Davis

15.10. Hannes Kasehs Bluessession
Louisiana Blues Pub

16.10. Mojo Blues Band
Bamkraxler

Herbie Smith Department
Replugged

Tony Jagitsch Glenn Miller Band
Konzerthaus

17.10. Bluessession
Bierkanzlei

18.10. Joey Green Band
Cafe Falk

19.10. Original Storyville Jazzband
Wimberger 12:00

20.10. Climax Blues Band
Reigen

21.10. Rebekka Bakken
Konzerthaus

Miuke Stern Band
Reigen

22.10. Les McCann & Javon Jackson Band
Reigen

Hannes Kasehs Bluessession
Louisiana Blues Pub

23.10. Rockin Birds & Michael Pewny
Bamkraxler

Hans Theessink
Orpheum

24.10. Brian Auger´s Oblivion Express
Reigen

Kurt Prohaska Trio
Die Ausstellung

25.10. Stefan Wagner Akustic Group
Kulturstadl Essling

Broadway Big Band
Konzerthaus

Anke Angel & Michael Pewny Trio
Reigen

26.10. Hot Jazz Ambassadors
Wimberger 12:00

27.10. Schmid / Carstensen / Breinschmid
Konzerthaus

29.10. Hannes Kasehs Bluessession
Louisiana Blues Pub

30.10. Smokehouse Jazzband
Bamkraxler

Hannes Kasehs Blues Trio
Cafe Ritter

31.10. Natascha & The Bluescrackers
Davis

Bluessession
Bierkanzlei


2.11. Martin Breinschmid presents
Die Ausstellung

3.11. Gilberto Gil
Konzerthaus

5.11. Hannes Kasehs Bluessession
Louisiana Blues Pub

6.11. Stefan Wagner Group feat. Melinda Stoika
Reigen

7.11. Andreas Sobczyk & Gerd Stächelin feat. Herbert Swoboda
Davis

11.11. Dana Gillespie & Joachim Palden Trio
Davis

13.11. Zipflo Weinrich & American Band
Reigen

15.11. AL COOK - Golden Stage Anniversary
feat. Dana Gillespie, Hans Theessink, Erik Trauner, Siggi Fassl,
Joachim Palden, Tom Müller, Martin und Sabine Pyrker & The Rocking Birds,
The Crazy Hambones und The Red Hot Serenaders
Metropol

21.11. Wolfgang Seligo Trio
Reigen

23.11. The Clayton-Hamilton Jazz Orchestra
Konzerthaus

26.11. Maja Haderlap / Wolfgang Puschnig
Konzerthaus

Hans Theessink
Metropol

29.11. Pee Wee Ellis Group
Reigen

30.11. Herbie Hancock
Konzerthaus











1.9. On Stage 19:30
mit Marlene Schnedl. Layla Zoe live at Reigen.
Sie wird gern als "Canada's Darling Of The Blues" bezeichnet.
Die Sängerin Layla Zoe. Mit 14 stand sie in der Band ihres Vaters erstmals auf der Bühne.
Eine große Karriere folgte. Mit ihrer Band gastierte Zoe am 24. März 2014 im Rahmen
des Vienna Blues Spring Festivals im Reigen in Wien.
Marlene Schnedl präsentiert die Höhepunkte dieses Konzertabends.

5.9. Jazztime 19:30
mit Andreas Felber. Schlitzohriger Kammer-Punk-Jazz: Edi Nulz.
Edi Nulz klingt wie der Name eines Wiener Prater-Strizzis. Doch Edi Nulz ist kein
menschliches Wesen. Schon gar kein einzelnes. Hinter diesem schlitzohrigen
Namen verbirgt sich eine vielversprechende Newcomer-Band der österreichischen
Jazzszene, die in ihrer Musik kammermusikalische Raffinesse mit der trashigen Energie
des Punk verschmilzt. Kennen gelernt haben Bassklarinettist Siegmar Brecher,
Gitarrist Julian Adam Pajzs und Schlagzeuger Valentin Schuster einander im Zuge
ihres Studiums an der Jazzabteilung der Kunstuniversität Graz, mittlerweile leben
sie in Wien bzw. Berlin.
Heute plaudern die drei von Edi Nulz im RadioCafe u. a. über die beiden CDs "Jetzt"
und "Ultrakarl", und lassen es sich dabei nicht nehmen, einige Kostproben live zum
Besten zu geben.

6.9. Jazznight 23:03
mit Herbert Uhlir und Bernd Hoffmann. Festivals 2014 and more.
In dieser gemeinsamen Ö1/WDR3-Jazznacht gibt es Ausschnitte von aktuellen
Festivalkonzerten aus Deutschland und Österreich.
Zu hören sind unter anderem der Organist Raphael Wressnig beim Inntöne Festival,
das Rebekka Bakken Trio, aufgenommen in Gütersloh, und die Gruppe Tribal Dialects.

8.9. On Stage 19:30
mit Herbert Uhlir. Mario Roms Interzone / James Blood Ulmer with
Pierre Dorge & New Jungle Orchestra live at Inntöne 2014.

13.9. Jazznight 0:05
mit Frank Hoffmann. A Night in Monte Carlo.
A Night in Monte Carlo, dazu hat E-Bassist Marcus Miller am 29. November 2008
u.a. den Trompeter Roy Hargrove, den Gitarristen und Vokalisten Raul Midon
sowie das Orchestre Philharmonique de Monte Carlo auf die Bühne gebeten.
Außerdem gibt es eine Hommage an zwei herausragende Musiker des Jazz,
die beide im September die irdische Bühne für immer verlassen haben: Jaco Pastorius
im Jahr 1987 und Miles Davis 1991.
Ausklingen wird die Jazznacht wie üblich mit den Balladen gegen das Morgengrauen.

15.9. On Stage 19:30
mit Wolfgang Schlag. Enrico Pieranunzi and the Danish Radio Big Band live in Friederiksberg.
Der italienische Pianist und Komponist Enrico Pieranunzi zählt zu den wichtigsten Pianisten
in Europa. Er prägte einen an der Klassik orientierten Stil. Am 22. Februar 2014 gastierte
er mit der Danish Radio Big Band im Studio 2 des Dänischen Rundfunks in Friederiksberg
nahe Kopenhagen.
Wolfgang Schlag mit den Höhepunkten des Konzertabends.

20.9. Jazznight 23:38
mit Andreas Felber. 30 Jahre Karlheinz Miklin & Quinteto Argentina.
Mit 67 Jahren ist Karlheinz Miklin, der einst jahrelang die Jazzabteilung an der
Kunstuniversität Graz leitete und von 2003 bis 2012 als Präsident der
"International Association Of Schools of Jazz" fungierte, weiterhin umtriebig.
Im Oktober feiert der aus Kärnten stammende Saxofonist und Bassklarinettist
mit einer ausgedehnten Tournee das 30-jährige Betriebsjubiläum seines wohlbekannten
Quinteto Argentina. Ein guter Grund, Karlheinz Miklin, diese wichtige Säulen der
österreichischen Jazzszene, zum Gespräch zu bitten.









For more information please mail to me: Jazz in Vienna


You´re visitor No.
See the comments in the old guestbook




The author of this website doesn´t take any responsibility for the contents
of pages which can be accessed through links