Jazz in Vienna
made by Manfred Kramlinger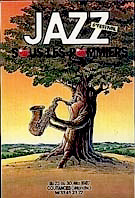 20th anniversary







I'm a 76 year old jazzfan,
born in Vienna and
I collect jazz music
since 1958.
I dedicate these websites
to all jazzfans,
especially in Vienna


20 Jahre sind eine lange Zeit.
Zeit - um jetzt aufzuhören.
Vielen Dank an alle Besucher meiner Website.

Alles Gute und
keep swinging !


20 years are a long time.
Time to quit now.
Thanks a lot to all the visitors of my website.

All the best and
keep swinging !



This CD + LP I bought in 2013


Café Drechsler
"Streamer"
Ulrich Drechsler -ts,-cl,
David Helbock -kb,-perc, Philipp Jagschitz -kb,
Patrick Zambonin -b, Christian Eberle -dm,-perc


rec. 2013







Last Update:
events: 01-12-2018
press gallery: 01-06-2017
music page: 01-08-2017
links: 13-06-2013


** Updated often, please bookmark **

You can access my website "Jazz In Vienna" also at the
following URL, if the server is too busy:
http://www.jazzpages.com/JazzinWien
Please bookmark this URL, too!




The Music Page
Music from my jazz collection:

SERGE CHALOFF

Listen to the music






JAZZLAND presents:


29. - 30.12. Marianne Mendt & Band














29.12. Gerd Hermann Ortler & Jazzorchester Vorarlberg
30.12. Harri Stojka Express
31.12. Karl Ratzer Quintet














31.12. Silvester @ Zwe feat. The Blue Groove
Zwe














Preview more jazz events:


















29.12. Jazznight 23:03
Studiogast Leonhard Skorupa, Tomas Fujiwara Triple Double
beim Jazzfestival Saalfelden 2018













For more information please mail to me: Jazz in Vienna


See the comments in the old guestbook




The author of this website doesn´t take any responsibility for the contents
of pages which can be accessed through links