Jazz in Vienna
made by Manfred Kramlinger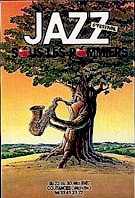 14th anniversary







I'm a 70 year old jazzfan,
born in Vienna and
I collect jazz music
since 1958.
I dedicate these websites
to all jazzfans,
especially in Vienna


This CD I bought in 2002


KLAUS DOLDINGER
Passport remixes

remixes by
Roberto di Gioia, Fauna Flash, De Phazz,
Torch & Boulevard Bou, Bobby Pleasure,
Trüby Trio, Soul Society, Jazzkantine,
Tarik Husseini, Marsmobil, Wess Ling

Original recordings 1973 - 1982






Last Update:
events: 01-12-2013
press gallery: 22-08-2013
music page: 01-11-2013
links: 13-06-2013


** Updated often, please bookmark **

You can access my website "Jazz In Vienna" also at the
following URL, if the server is too busy:
http://www.jazzpages.com/JazzinWien
Please bookmark this URL, too!




The Music Page
Music from my jazz collection:

NAT KING COLE & LESTER YOUNG

Listen to the music




JAZZLAND presents:


2. - 3.12. OhrGeldRio
4.12. Worried Men Skiffle Group
5.12. Abi Wallenstein & Hermann Posch
6.12. Hot Jazz Ambassadors
7.12. Andi Weiss Quintet
9. - 14.12. Thomas Gansch
16.12. Vienna Big Band Project
17. - 18.12. Mojo Blues Band
19.12. Elly Wright
20.12. Riverside Stompers
21.12. Project Two
23.12. Barrelhouse Jazzband
26.12. Big Joe´s New Orleans Band
27.12. Herbert Swoboda Quintet
28. - 30.12. Marianne Mendt

2. - 5.1. Hans Theessink
7. - 8.1. Ralph Reichert & Erwin Schmidt Organ Trio
feat. Christian Havel & Mario Gonzi
9.1. Caoba
10.1. Red Hot Pods
11.1. Walk Tall
13.1. Lilli and the Last Temptation
14.1. Markus Gaudriot Trio
15. - 16.1. Koolinger
17. - 19.1. Axel Zwingenberger & Lila Ammons
20.1. Kurt Prohaska Trio
21.1. Tom Müller´s Hot Barbacue
22.1. Martin Fuss & Christian Plattner Quartet
23.1. Stanton Bigband
24.1. Barrelhouse Jazzband
25.1. Hot Jazz Ambassadors
27.1. Markus Geiselhart - Uni Big Band
28. - 29.1. Mojo Blues Band
30.1. Al Reifert Trio & Friends
31.1. Original Storyville Jazzband

1.2. Andi Weiss Quintet
3. - 4.2. Martin Pyrker & Chris Conz
5. - 6.2. Christian Havel & Robert Schönherr Trio
7.2. Herbert Swoboda Quintet
8.2. Blue Note Six
10.2. Vienna Jazz Orchestra
11.2. Al Cook Trio
12.2. Quarda Works
13.2. Project Two feat. Susan Rigvava-Dumas
14.2. Burgundy Street Jazzband
15.2. Red Hot Pods
17. - 20.2. Vince Herring / Joris Dudli Soul Jazz
21.2. Barrelhouse Jazzband
22.2. Riversdie Stompers
24.2. Martina Petz
25.2. Joschi Schneeberger Quintet
26.2. Three Wise Men
27.2. Worried Men Skiffle Group
28.2. - 1.3. + 3.3. Dana Gillespie


Preview:

12. - 13.3. Don Menza Quartet
19. - 20.3. Denise King & Olivier Hutman
15. - 19.4. Howard Alden
22. - 26.4. Jim Galloway










1.12. Sibylle Kefer / Wilfried & Die Neue Band
2.12. Adriane Muttenthaler 30 Jahre Criss Cross
3.12. Koschanod & Wolfram Berger "unrund"
4.12. Roy Ayers & Ubiquity
5.12. Das Kapital spielt Eisler
6.12. Tigran Hamasyan Quintet
7.12. Vojtech Dyk & B-Side Band & Kurt Elling
8.12. Lia Pale
9.12. Henri Texier Hope Quartet
10.12. Franzobel & Maxi Blaha 'WeihnachtsfEier'
11.12. BigBandEvent V
Austrian Jazzcomposers Orchestra (alias Nouvelle Cuisine)
12.12. The Bulgarian Voices – Angelite
13.12. Schlippenbach Trio
14.12. Bob Mintzer & kons.jazz.orchestra
15.12. Studio Dan & Elliott Sharp 'In The Pelagic Zone'
17.12. Don Ellis Tribute Orchestra feat. Thomas Gansch
18.12. Hallucination Company "Christmas Special Night" (A)
19.12. The Vienna Chamber Diaries
feat. Wolfgang Muthspiel & Klaus Gesing
20.12. Biboul Darouiche's Soleil Bant
21.12. Karl Ritter Solo / Weisse Wände
22.12. Portrait Karl Ritter
Karl Ritter & Battista Acquaviva Duo / Soundritual
23.12. Portrait Karl Ritter
Aufbruch in eine neue Welt / Königleopold
24.12. Slavko Ninic & Wiener Tschuschenkapelle (A)
25.12. Sterzinger Experience Sextett (A/I)
26.12. Karen Asatrian & Armenian Spirit feat. Rita Movsesian
27.12. Özlem Bulut Band
28.12. Ostinato
29.12. Harri Stojka 'Roma Music'
30.12. 50 Broken Promises – Das letzte Konzert im Jubeljahr 2013
31.12. Silvester Special Karl Ratzer Septet

1.1. New Year Special Karl Ratzer Septet
2.1. Gina Schwarz 'Jazzista'
3.1. Le Bang Bang
4.1. Erika Stucky 'Black Widow'
5.1. The Flow
7.1. Raphael Wressnig & The Big Boogaloo Hornz
8.1. Alex Ehrenreich Big Band feat
Jörg Seidel & Richard Oesterreicher
10.1. Triotonic
11.1. Manndorff / Herbert / Pirker
12.1. Wayne Escoffery Quintet feat. Rachel Z & Danny Grissett
14.1. MGO meets the radio.string.quartet feat. Peter Ahorner
15.1. Renate Reich Fivetett
16.1. MIVOS Quartet & Jorge Sánchez-Chiong
17.1. Zhenya Strigalev's Smiling Organizm
w/ Ambrose Akinmusire, Larry Grenadier & Eric Harland
18.1. JIM Faculty feat. Allan Praskin
19.1. James Blood Ulmer 'Phalanx revisited'
20.1. Bonebridge
22.1. A Turn In The Road
24.1. Session Work Festival
Jazz and Music from and for today
25.1. Session Work Festival
Jazz and Music from and for today
26.1. Session Work Festival
Jazz and Music from and for today
27.1. Tango Crash 'Accidente de Tango'
28.1. David Helbock's Random/Control
29.1. Max Nagl Ensemble
30.1. Marcin Wasilewski Trio
31.1. Nik Bärtsch's Ronin










1.12. Joey Green Quartet
Kulisse

Red Hot Five
Wimberger 12:00

Bohemien Jazzband
Fischer Bräu 11:00

Daniel Nösig´s Sunday night special
Zwe

2.12. Axel Zwingenberger
Stadtsaal

Stephies Song Salon
Zwe

Herbie Smith Department
U.S.W.

3.12. Original Swingtime Big Band
Konzerthaus

Tuesday Session mit Julia Siedl
Zwe

Jazz Session
Cafe Concerto

Martin Egger
Jazzcafe Bird

4.12. Blues Session feat. Hannes Kasehs
Louisiana Blues Pub

Sabina Hank & Band
ORF Radio Cafe

Trio Nuance
Die Ausstellung

Duo Thomas Gansch / Georg Breinschmid
Wein & Co. Mariahilferstraße, 18:30

Let´s Groove Jazz - Jamsession
Zwe

5.12. Blue Note Six feat. Inge Pischinger
Bamkraxler

Sabina Hank & Band
ORF Radio Cafe

3likeme
Die Ausstellung

Jazzlavie
Davis

The Untouchables
Adventmarkt Karlskirche 16:00

Wetterstein Blues Art
Cafe Concerto

KUG Jamsession
Zwe

6.12. Thiemo Kirberg Trio
Zum Lustigen Radfahrer

Abi Wallenstein - Henry Heggen - Peter Müller
Davis

Bluessession
Bierkanzlei

Blues Session feat. Hannes Kasehs
Louisiana Blues Pub

Stefan Holzreiter & Band
Die Ausstellung

Intimacy´s ! BASS
Zwe

Ceora
The Golden Harp

7.12. Blue Note Six
Jazzpark Eßling 17:00

Thomas Gansch
ORF Radio Cafe 10:00

Geoffrey Goodman King & Bluesband
Cafe Falk

Polyspheres
Die Ausstellung

`sFUNKtioniert
Zwe

Willy The Chilly & Oliver Gruen Bluesband & Roots Session Band
Davis

Herbie Smith Department
Cafe Adabei

Vienna Blues Affair
Louisiana Blues Pub

8.12. Herbert Swoboda Quintet
Wimberger 12:00

Hot Jazz Jam Session
Simmeringer Bier- und Kulturschmankerl 11:30

Kurt Peyer & his New Orleans Fellows
Fischer Bräu 11:00

Project Two
Zwe

9.12. Christian Salfellner & "The International Sweethearts of Rhythm"
Zwe

10.12. Autumn Leaves
Die Ausstellung

Tuesday Session mit Reinhold Schmölzer
Zwe

Jazz Session
Cafe Concerto

11.12. Herbie Smith Department
Cafe Carina

Blues Session feat. Hannes Kasehs
Louisiana Blues Pub

Vienna Big Band Project
Davis

Let´s Groove Jazz - Jamsession
Zwe

12.12. Survival Unit 3
Blue Tomato

kons.wien.jazzorchestra
Zwe

13.12. Blue Note Six
Zum Lustigen Radfahrer

F.G. Hacker Trio
Davis

Frode Gjerstad Trio
Blue Tomato

The Wright Singers
Zwe

Joey Green & The Rayville Band
Ost Klub

Andrew Young & Band
Reigen

14.12. Bettina Krenosz Jazz4tett
Zwe

15.12. Burgundy Street Jazzband
Wimberger 12:00

Eddie´s Swing Cats
Fischer Bräu 11:00

Eddie´s Swing Cats
Jazzpark Eßling 17:00

Original Storyville Jazzband
Petra´s Club, HdB Floridsdorf

Laila´s Vocal Jam Session
Zwe

16.12. Dianne Reeves
Konzerthaus

Dwight Trible & Paul Zauner's Christmas All Stars
Radio Kulturhaus

Mike Mossessian Latin Quartet
Zwe

17.12. Blues Session
Aera

Tuesday Session mit Lukas Kletzander
Zwe

Jazz Session
Cafe Concerto

18.12. Blues Session feat. Hannes Kasehs
Louisiana Blues Pub

Let´s Groove Jazz - Jamsession
Zwe

19.12. Klemens Marktl
Zwe

20.12. Original Storyville Jazzband
Zum Lustigen Radfahrer

Lilly Kern & Band
Davis

Bluessession
Bierkanzlei

Jazztime: Volkhard Iglseder & "Triotonic"
mit Andreas Felber
ORF Radio Cafe

Vienna Dixie Cats
Zwe

21.12. Tom Müller´s Hot BBQ
Jazzpark Eßling 17:00

Alternative Strings Trio
Zwe

Cool & Juicy
Davis

22.12. Vienna Jazz Serenaders
Wimberger 12:00

Smokehouse Jazzband
Fischer Bräu 11:00

Project Two
Zwe

New York SKA-Jazzensemble
Arena Wien

25.12. Blues Session feat. Hannes Kasehs
Louisiana Blues Pub

26.12. Michael Pewny Trio
Wimberger 12:00

Gypsy Jam
Jazzcafe Bird

27.12. Susanne Plahl & The Lightning Rod
Louisiana Blues Pub

29.12. Connection
Wimberger 12:00

Boogie Woogie Gang
Fischer Bräu 11:00

31.12. Silvester im Zwe
Zwe





Preview more jazz events:


5.1. Seven Steps To Heaven
Wimberger 12:00

9.1. Stephan Kutscher Group
Bierkanzlei

10.1. Triple Ace
ORF Radio Cafe

Bluessession
Bierkanzlei

11.1. The Big Boogie Woogie & Blues Show
Metropol

Herbie Smith Department
Little Stage

12.1. Sasha Ploner Trio
Wimberger 12:00

13.1. Manu Katché
Konzerthaus

15.1. Glenn Miller Orchestra
Konzerthaus

16.1. Julia Siedl Trio
ORF Radio Cafe

La Bigband
Sargfabrik

Jetlag Allstars
Die Ausstellung

17.1. Raphael Wressnig
Davis

Jazztime: Diknu Schneeberger
ORF Radio Cafe

Die Herren Alexander
Die Ausstellung

18.1. Reinhard Micko Quartet
Reigen

19.1. Joey Green & Fabulous Jolettes
Wimberger 12:00

20.1. Al Cook & Band
RadioKulturhaus

23.1. Pianofortebrass
Sargfabrik

Andreas Sobczyk & Frank Muschalle
HdB Liesing

24.1. Bluessession
Bierkanzlei

25.1. Tina Mahr
Davis

26.1. Geoffrey Goodman King Bluesband
Wimberger 12:00

27.1. Muthspiel / Youssef / Wesseltoft «Dialogues»
Konzerthaus

28.1. All Time Swing Band
Davis

30.1. Bartomuk
Die Ausstellung


21.2. Stars of Boogie & Blues
Al Cook Trio, Martin & Sabine Pyrker,
B.B. & The Blues Shacks
Axel Zwingenberger
Konzerthaus











2.12. On Stage 19:30
mit Marlene Schnedl. European Jazz Sextet / WDR Big Band.
Ali Haurand gründete das European Jazz Ensemble im Jahr 1976. Die aktuelle
Band rund um den Bassisten Haurand spielte am 27. September 2013 beim
Internationalen Jazzfestival in Viersen. Mit dabei unter anderem
Alan Skidmore und Gerd Dudek.
Am selben Abend präsentierte die WDR Big Band mit der Pianistin und Arrangeurin
Toshiko Akiyoshi ein Programm, das zur Gänze der Künstlerin gewidmet war.
Marlene Schnedl stellt die Höhepunkte der beiden Konzerte vor.

7.12. Jazznight 23:03
mit Marlene Schnedl. Der unermüdliche Saxofonist Michael Fischer im Gespräch.
Als Dirigent des Vienna Impovisors Orchestra - kurz VIO - ist der österreichische
Saxofonist Michael Fischer kein Unbekannter in der heimischen Impro-Szene;
dass er aber auch international umtriebig ist, beweisen seine jüngsten Reisen:
etwa in die USA, wo er gemeinsam mit dem argentinischen Schlagzeuger
Marcos Baggiani im Duo beim Sonic Circuits Festival in Washington, D.C.,
gastierte oder nach Kanada. In Montreal hat er mit dem italienischen
Rara Music Ensemble an "instant composition conductings" gearbeitet.
Viel Spannendes zu erzählen also im Ö1 Jazznacht-Studio.

9.12. On Stage 19:30
mit Maria Reininger. Chucho Valdés, Fatima Tabaamrant und Alireza Ghorbani
beim Festival Glatt und Verkehrt 2013.
Lässig-gekonnten Jazz des Pianisten Chucho Valdés und seiner Afro-Cuban Messengers
gab's im vergangenen Sommer in Krems zu hören. Musikalischen Kontrast dazu
boten die hierzulande noch unbekannte Berber-Sängerin Fatima Tabaamrant und
das iranisch-tunesische Duo Alireza Ghorbani und Dorsaf Hamdani mit ihrem Ensemble.

14.12. Jazznight 23:20
mit Andreas Felber. "Der schwedische Vulkan": Mats Gustafsson.
Mats Gustafsson gilt in Sachen frei improvisierter Musik als einer der bedeutendsten
Protagonisten seiner Generation. Der 49-jährige, von Peter Brötzmann beeinflusste
Saxofonist aus Umeå, der in seinem Spiel das Intensitätsmoment betont und den
Instrumenten siedend heiße Klänge zu entlocken versteht, lebt seit einigen Jahren
im burgenländischen Nickelsdorf.
Mit Andreas Felber spricht er über seine Sozialisation, seine ästhetischen Anschauungen
und über aktuelle Veröffentlichungen mit dem Trio "The Thing", dem "F!re Ensemble"
und im Duo mit Sonic Youth-Mastermind Thurston Moore.
Außerdem in dieser "schwedischen" Jazznacht: Das Konzert des Tentetts "Angel 10"
um Altsaxofonist Martin Küchen beim Jazzfestival Saalfelden 2013.

16.12. On Stage 19:30
mit Herbert Uhlir. Das etwas andere Weihnachtskonzert live aus dem RadioKulturhaus:
Paul Zauner and the Christmas All Stars feat. Dwight Trible.
Der Posaunist und Bandleader Paul Zauner erarbeitet jedes Jahr ein spezielles
Weihnachtsprogramm. Seine Konzerte strotzen vor Energie und beinhalten doch auch
leise und beschauliche Momente. Auf der Bühne auch der charismatische
amerikanische Sänger Dwight Trible.
Herbert Uhlir live aus dem RadioKulturhaus in Wien.

20.12. Jazztime 19:30
mit Andreas Felber. Volkhard Iglseder - der Klaviertrio-Philosoph.
Live aus dem RadioCafe.
Seit 16 Jahren betreibt der oberösterreichische Pianist Volkhard Iglseder die
Formation Triotonic, choreografiert mit ihr fließende, lyrische Klänge von
kammerjazziger Intimität. Nach einer Phase des gemeinsamen Musizierens
mit Trompeter Lorenz Raab ist unlängst die vierte CD "Levitation" erschienen,
im Zuge derer sich Triotonic wieder auf die angestammte Besetzung
Klavier-Bass-Schlagzeug konzentriert.
Als Gast von Andreas Felber spricht Volkhard Iglseder über seine Treue zu
Oberösterreich, seinen Bezug zur Klaviertrio-Tradition und darüber, was
"Levitation" mit Peter Handke zu tun hat.

21.12. Jazznight 23:30
mit Ines Reiger. "Das JONESMOBILe",
Seit über 33 Jahren fasziniert das "JONESMOBILe" ein internationales
Musikpublikum weltweit: auf nahezu jedem Kontinent ist das Ensemble
um Christine Jones mit seinem Destillat aus Jazz, Pop und Folkmusic Garant
für spannende Live-Atmosphäre. -
Christine Jones und Peter Schrammel zu Besuch im Ö1 Jazznacht-Studio.

23.12. On Stage 19:30
mit Marlene Schnedl. Hedvig Hanson live at Landesmusikschule Bad Goisern.
Die estnische Sängerin Hedvig Hanson gastierte am 21. November 2013
im Rahmen des Schwerpunkts Estland der Jazzfreunde Bad Ischl in der
Landesmusikschule in Bad Goisern.
Die Sängerin, die ihre eigene Band mitbrachte, wechselt von sehnsüchtigen
Liedern immer wieder zu sehr jazzigen. Inspirieren lässt sie sich auch von
klassischer Musik und dem Leben in der Natur.
Marlene Schnedl mit den Höhepunkten des Konzertabends.

28.12. Jazznight 23:03
mit Herbert Uhlir. Sophie Hassfurther live at Porgy & Bess.
Die Saxofonistin Sophie Hassfurther gastierte mit ihrer Band am
13. Oktober im Porgy & Bess in Wien. Mit ihr spielten der Schlagzeuger
Wolfgang Reisinger, der Bassist Thomas Stempkowski und der
Bassklarinettist Oguz Büyükberber.

30.12. On Stage 19:30
mit Wolfgang Schlag. Jon Madof / Uri Caine live at Jazzfestival Saalfelden 2013.
Die Musik der New Yorker Band des Gitarristen Jon Madof orientiert sich an
sephardischer Musik ebenso wie an afrikanischer. Sein Projekt nennt Madof
"Zion 80 - Jewish Afro Beat". Mit diesem gastierte er am 24. August 2013
auf der Hauptbühne des Jazzfestivals Saalfelden. Ebendort spielte am
25. August 2013 das Ensemble des amerikanischen Pianisten Uri Caine eine
Gershwin Hommage. Zu hören auch die berühmte "Rhapsody in Blue".
Wolfgang Schlag präsentiert die Höhepunkte der beiden Konzerte.












For more information please mail to me: Jazz in Vienna


You´re visitor No.
See the comments in the old guestbook




The author of this website doesn´t take any responsibility for the contents
of pages which can be accessed through links