Zamioculcas
and the
Aroid family

Zamioculcas is a quite untypical member of the Aroid Family (Araceae):
- It has pinnate leaves of the type mainly found in dicots. Pinnation originates from a fractioning of meristemous tissue during initial phases of leaf development, opposed to the compound leaves of many other monocots, e.g. Monstera or many palms (Arecaceae), where pinnation originates from necrosis of already developed leaf tissue.
Within the aroid family, pinnate leaves are known only from Zamioculcas (pinnate) and Gonatopus (bi- or tripinnate).

- Complete regeneration can be observed from leaflets (even from partial cuttings; see image), from entire leaves, or from bare leaf stalks (own observation). According to the UConn EEB Conservatory, this potential is unique in the Araceae:

An ancient relic, along with Gonatopus, with a unique characteristic (for Aroids) in that the leaflet can fall to the ground, root and form bulblets. This feature is not known in aroids outside of the Zamioculcadeae.

- The unisexual* flowers have a developed perigon, a feature that -within the usually aperigonate Aroideae subfamily- Zamioculcas has in common only with Gonatopus and Stylochaeton (perigonate Aroideae).

*) Note: The flowers of Zamioculcas are morphologically hermaphroditical, but physiologically unisexual. Male (and sterile) flowers show an infertile pistil (see image); female flowers contain "stamina imperfecta" (Engler).

- According to P.F. STEVENS (2001 onwards) (Angiosperm Phylogeny Website. Version 3, May 2002), "Zamioculcas has introse* anthers" (apparently in contrast to the rest of the aroid family).

*) recte: "introrse" (which means "facing inward; turned toward the axis. Used especially of anthers." © American Heritage® Dictionary)

- According to M. HESSE (1999), palynological characters support the placement of Zamioculcas - along with Gonatopus - into an own subfamily of the Araceae:

The inaperturate pollen of the aperigonate Aroideae has a thick, spongy endexine, which is mostly covered by a polysaccharidic stratum (Weber et al. Int J Pl Sci 160/2, 1999).
Pollen of the perigoniate Aroideae (sensu Mayo et al., 1997: Zamioculcas, Gonatopus and Stylochaeton) deviates from that of the aperigonate in important exine and aperture characters (thick nonapertural ektexine and thick apertural endexine in the zonosulcate Z. and G., thin, unstratified ektexine in the inaperturate St.).
The palynological characters underline the present tribal alignement of Z./G., and of St., but support even the placement of Z. and G. in a new subfamily with St. still remaining in the Aroideae.
The presence or absence of an aperture, of the polysaccharidic stratum or of the spongy endexine appears connected with the aroid floral biology.

The genus is regarded to be monotypic, with Z. zamiifolia as the only species.

Zamioculcas zamiifolia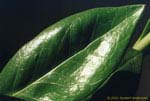 leaflet, upper side
---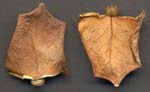 Leaflet cutting
with young tuber
(upper and lower sides).
The leaflet has dried up;
the tuber is still alive.

---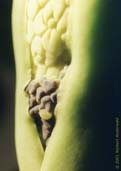 above: immature male flower;
below: fertile female flower
---

above: male and sterile flower (longitudinal section); below: stamen (dorsal and frontal view).
From A. Engler, Pflanzenr. IV. 23B. p. 305, Fig. 85 C-E
---