A 'different' Zamioculcas

I have seen a plant labelled as "Zamioculcas gracilis ENGL." (most likely a nom. nud.) in one of the greenhouses of the Giardino dei Semplici in Florence, Italy, in May 2001. It had the overall appearance of Z. zamiifolia, but was smaller in size - fully grown leaves about 50 to 60 cm long - and looked less xeromorphic. The leaf bases were not inflated; the leaflets (pinnae) did not show the intensive gloss and dark green colour of Z. zamiifolia, but were softer, thinner and less succulent in appearance and texture (reminding somehow of the leaves of e.g. Pereskia, Cactaceae), and narrower in shape, with an elongated tip (Z.z.'s leaflets are more ovoid and with a much shorter tip).

A very distinctive characteristic of this plant is the conspicuous 'knee', a thickening in the leaf petiole (similar to Gonatopus), which is located right below the point of transition from the (elongated) leaf base to the petiole (leaf stalk). The "normal" Zz has a similar discontinuity in the leaf axis, which is hardly swollen and by far less conspicuous. Zz drops dead leaves near this point of transition, which is marked by a ring of dark coloured spots around the top of the leave base (see illustration).

Please note that the distinction between leaf base and leaf proper is originally used for dicots; application for monocots is provisional only.


The leaflets show a regenerative potential similar to those of Z. zamiifolia: formation of callus, roots, young tubers and apical meristem; this full regeneration can occur both at the base of the leaflet petiolule and at interruptions of the central vein of the leaflet blade.
The observed cuttings did not develop a +/- globular tuber with fissured, cork-like cortex (like the 'normal' Zz), but showed softer skinned tubers of varying shape. The first leaf (after some tiny bracts) has two leaflets -like the 'normal' Zz-, but is much smaller.

The plant appeared to be very sparsely covered with tiny hair of dark colour; but this observation may as well be explained as a misinterpretation of epiphytic algae.

The observed plant in Firenze showed some infestation with mealy bugs.


Orto Botanico dell'Universitą
degli Studi di Firenze

---

"different" Zamioculcas
in Firenze, May 2001
---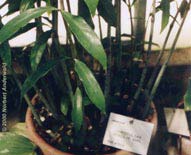 details, enlarged.
note: leaflet form;
thickening in leaf petioles (top right)
---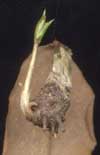 'different' Zamioculcas:
young tuber,
developing at the end of a leaflet petiolule, with first leaf