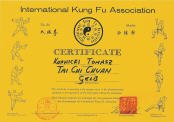 And finally, after one'n half year efforts, I've mastered successfully in Tai Chi Chuan, receiving the Certification for Yellow Belt from Master R.Horwath/Vienna in winter 2001, according to the regulations of the International Kung Fu Association.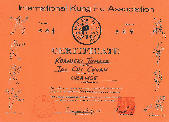 During the summer 2002 I've successfully upgraded the certification to Orange Belt.
More things I cope with will come soon.