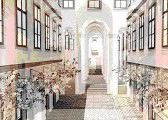 the apartment is oriented to very quite pedestrian passage
layout - ground floor elevation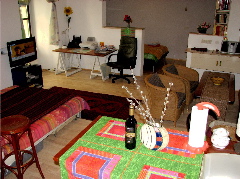 general view from the entrance to living area
living area and dinnig group, view to entrance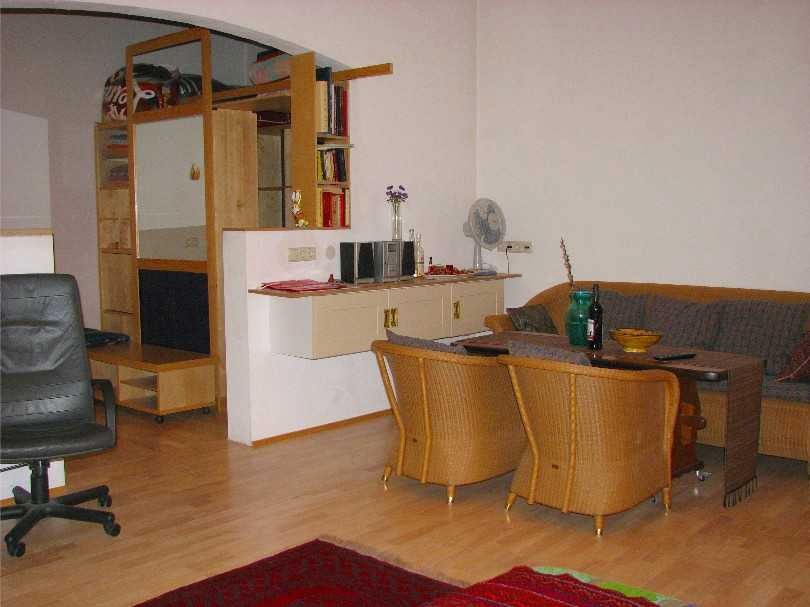 view to LLoyd Loom sitting group, library and walk in closet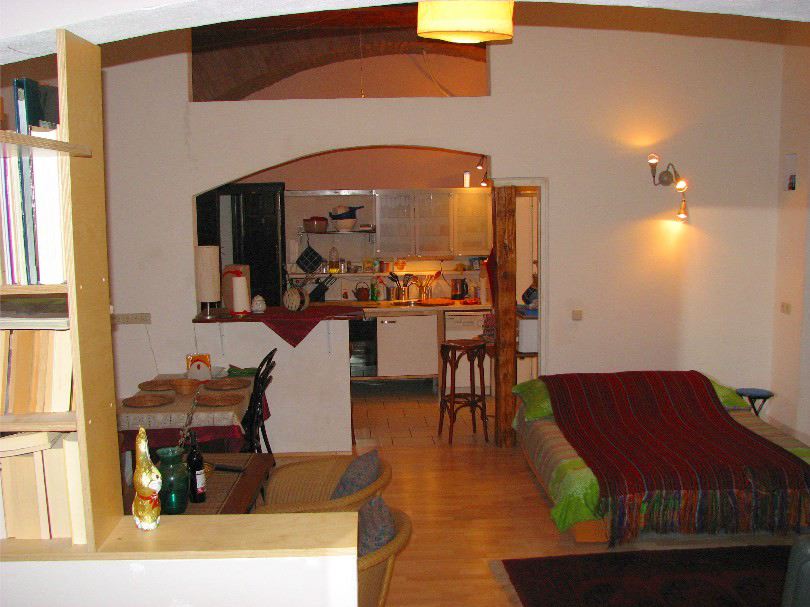 view to living area from kitchen, sofa as additional bed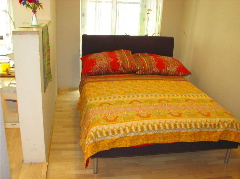 bedroom view to the window and the bed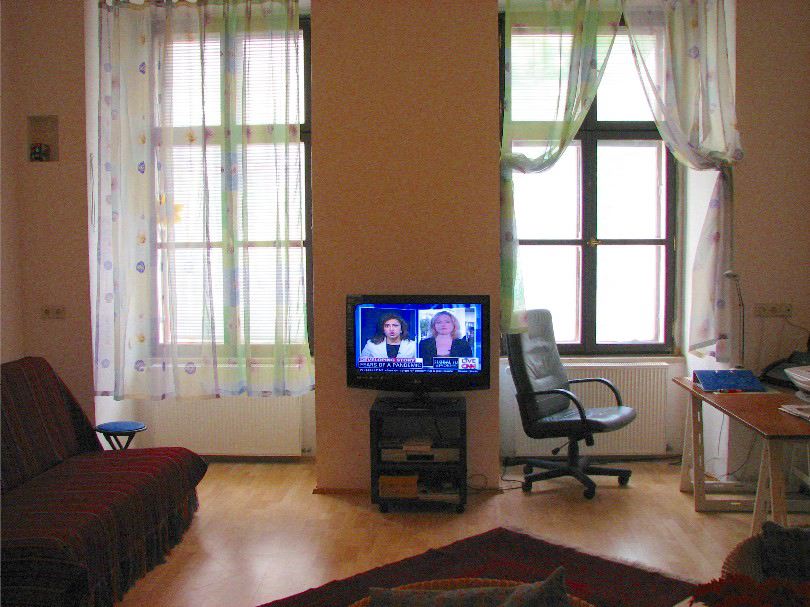 windows to the courtyard, tv set, writing table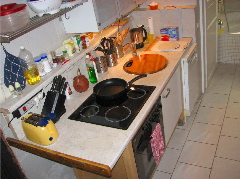 kitchen: details of the kitchen line, facilities, bath entrance

bath room: details of equipment - tub with shower, sink, clothes washer, WC
APARTMENT VIEW FROM THE LIVING AREA TO KITCHEN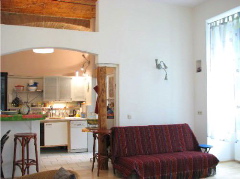 Self Catering City Studio Apartment in Vienna Austria, Furnished Rental Accommodation Lodging for short or longer term stay for 1 - 4 persons
located next to center of the City
---
ADDRESS, E-MAIL, INFORMATION:
For further information or to make reservations please contact:
Mr. Marijan Uzelac, Neustiftgasse 16/2/30, 1070 Vienna, Austria
Tel/Fax: 0043-1-971 28 72 ------ Mobile: 0043 676 6367919
e-mail: marijan.uzelac@chello.at
---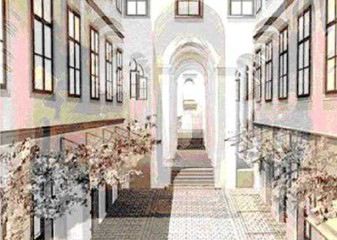 GENERAL DESCRIPTION:
LOOK HERE FOR MORE DETAILED DESCRIPTION
My self-catering apartment in Vienna is a fully equipped accommodation appropriate for vacations and holidays. It is available for short term or longer periods of time and is rented directly from the owner. The interior (55 sq. M. / 592 sq. Ft. ) is an open space divided into areas rather than separate rooms. It is composed of a living area, equipped with a dining table, LLoyd Loom sitting group, a additional sofa, TV, and writing table. Beyond this, there is a sleeping area and spacious walk-in-closet. The fully equipped kitchen is situated next to the entrance. In addition there is a separate bathroom. The room height of 360 cm. (circa 12 ft.) makes this holiday studio apartment extraordinarily spacious and light. It is best suited for 2 persons but can comfortably accommodate up to 4. The apartment was renovated and modernized in 2002. It's character has been preserved with the retention of historic elements including brick arches and visible wooden beams.
pages:
---
ALTERNATIVE OFFER:
---
layout :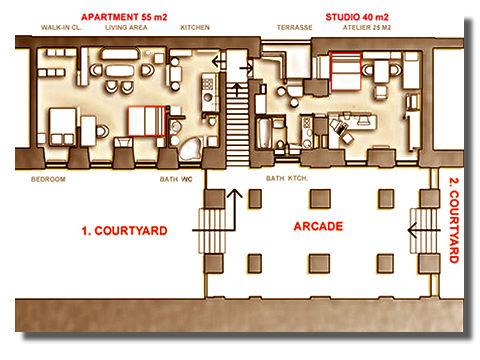 ---
PRICES IN € EURO PER NIGHT:
♥ ♥ ♥ ♥
from € 65 to 73 for 1 or 2 pers⁄ night
additional € 13 ⁄ night for the 3rd person
Euro 10 ⁄ night for 4th person
---
ON WEEKLY BASE IN AVERAGE:
€ 460 to 490 per week for 1 or 2 persons
€ 560 per week for 3 persons
€ 630 per week for up to 4 persons
---
All-inclusive except for phone. Payment preferred on arrival, available all year through.
INTERNATIONAL - SUMMARY:
---
ENGLISH: city studio apartments, accommodations direct from owner, self catering apartment Vienna Austria, for vacations, holidays or business traveler, private rental studio and apartment as self catering vacation flats, wireless internet connection for business traveler. short term apartment stay in Vienna. fully equipped apartment up to 4 persons.
FRANÇAIS:Location de vacance à Vienne dans le même centre da la ville situé à deux pas du même centre historique, pour un court ou long séjour pour 1 - 4 personnes
DEUTSCH: FeWo Wien Zentrum, self catering Studio, Appartement für Reisenden auf Urlaub oder Ferien oder auf Geschäft Reise. Ferienwohnung voll möbliert, Wohnung zu vermieten, geeignet für kurz oder lang Aufenthalt, zentrale Lage, 1 - 4 Personen, 7. Bezirk Wien, am Stadtzentrum
ITALIANO: appartamento completamente accessoriato, situato a centro vienna, austria, studio appartamento, direttamente dal proprietario, per la vacanza, per il viaggiatore di affari, il soggiorno corto di termine a Vienna, appartamento locativo, appartamenti riservati di feste, un alloggio comodo per le vacanze e le feste, per il viaggiatore di affari a Vienna, appartamento completamente dotato, alloggio a termine più lungo a Vienna Austria, alloggio per la vacanza,
ESPANOL: Apartamento studio ( estudio ) urbano, el apartamento, completamente equipado, un alojamiento para corto plazo en cuanto a una estancia más larga del término (hasta tres meses o tan) en Viena, alojamiento centro Viena,
---