New British girl group Girls@Play are the latest act to emerge from the Stock & Aitken stable of artists.

They are Vicky - the cowgirl, Rita - the mechanic, Lynsey the traffic cop,
Lisa-Jay - the executive and Shelly - the pilot.

28 November 2001

Girls@Play have decided to split up. After two singles and three years of promoting, Girls@Play have decided to go their separate ways. This has been one of the last projects that Mike Stock and Matt Aitken had involvment in. The S&A written and produced single Airhead was a minor hit in early 2001 and got to number 18 in the UK charts.

Mobius wishes the girls the best of luck for their future carreers.

7 October 2001

Respectable has entered the UK Charts at number 29.

1 October 2001

Respectable is OUT NOW!
CD 1
1. radio mix
2. extended mix
3. the system 3 mix
CD 2
1. almighty remix
2. time machine club mix
3. video
24 August 2001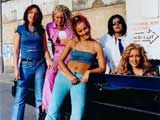 Girls@Play answer some questions for Smash Hits / The Box.

13 August 2001

Girls@Play will be supporting popstars sensation Hear'Say on their arena tour in August and September 2001.
Check the official Girls@Play site for details.

The Girls' debut single Airhead was released on 12 February 2001 and got to number 18 in the UK charts.

The follow up single Respectable, a cover of the Mel & Kim classic, is scheduled for release on September 17th 2001.


Watch out for the brand new video on the BOX now. #282

A short clip of the Respectable video can be seen on the official Girls@Play site.

Vinyl promos of Respectable have already been mailed out. The 12" contains:
Almighty Remix
K Boy Groove
System 3 Mix
Extended Radio Mix

Girls@Play are signed to Redbus Music (formerly GSM Records), a subsidary of Universal Group in the UK.
They are signed to Virgin in Germany.

The following tracks have been recorded and produced by Mike Stock and Matt Aitken and/or Pete Hammond:
Airhead (1st single)
Brand new car (performed live, supporting Steps on tour in 2000)
Devil and the deep blue sea (demo, cover of a song used in the film "Like it is")
Everything I need (demo, mid-tempo ballad)
Forget about love (promo, played on LBH Radio)
Outa my head (released on Smash Hits Christmas promo CD)
Respectable (demo produced by Pete Hammond)
When love takes over you (demo, cover of a Donna Summer song)
Check out the making of the Airhead video at the Girls@Play section on NME.com

New pic: