Zamioculcas Loddigesii
(Synonym of
Z. zamiifolia)

1. Z. Loddigesii, Schott, Synop. Aroid. 71. Rhizome stout, creeping. Leaves all radical, erect, pinnate, 1½–2 ft. long, including the petiole, glabrous ; petiole stout, shortly sheathing at the base, with a swollen articulation above the middle ; leaflets opposite or alternate, 3½–5½ in. long, 1–2 in broad, oblanceolate, acute, cuneately narrowed to the base from above the middle, articulated to the petiole and at length deciduous. Peduncle 1½–2½ in. long, 2 lin. thick, glabrous, surrounded by several bracts. Spathe green, glabrous ; tube subglobose, about ½ in. long and broad ; limb 1½–2 in. long, about 1 in. broad, ovate-oblong, acute, horizontally spreading or reflexed. Spadix stout, about 5 lin. thick, constricted above the female part, very obtuse, whitish ; female part ½ in. long ; male part 9–11 lin. long. Fruit not seen.— Schott, Prod. Aroid. 214 ; Decsne in Bull. Soc. Bot. France, xvii. 321 ; Bot. Mag. t. 5985 ; Engl. in Nov. Act. Acad. Leopold. Nat. Cur. xxxix. 201, t. 13, fig. 24, in DC. Monogr. Phan. ii. 208, Jahrb. i. 189, and Pfl. Ost-Afr. C. 131 ; Engl. & Prantl, Pflanzenfam. ii. iii. 117 ; Lynch in Gard. Chron. 1880, xiv. 375 ; Durand & Schinz, Conspect. Fl. Afr. v. 472. Caladium zamiæfolium, Lodd. Bot. Cab. t. 1408.
Nile Land. British East Africa : Rabai Hills, near Mombasa, Taylor !
Mozamb. Dist. Zanzibar, cultivated specimens, Kirk ! Boivin (ex Decaisne), Hildebrandt (ex Engler).
Also found on the Island of Bourbon according to Engler.
This plant is remarkable among Aroids in having truly pinnate leaves, with the leaflets articulated to the petiole, which character, however, is also shared by the very remarkable American genus Thaumatophyllum. The Leaflets, after falling to the ground, have the property of forming a small tuber at their base, which ultimately develops into a young plant. This peculiarity was first discovered at Kew by Mr. R. J. Lynch in 1874 or earlier, according to a note in the Kew Herbarium, and as stated by him in the Gard. Chron., l.c. Subsequently the same thing was rediscovered by Herr Hild, of Kiel University Botanic Garden, as detailed by Prof. Engler (ll.cc.).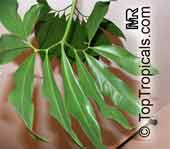 Philodendron goeldii G. M. Barroso
(syn.: Thaumatophyllum spruceanum Schott)
© TopTropicals.com