THE SHREW SHRINE

---
Back to The Shrew Main Pages: Shrew Home - Shrew Bibliography - Shrew Photo Gallery - Shrewists on E-mail - Shrew Talk Newsletter - Shrew Facts & Stories - Shrew Links - Shrew Inquiries - Shrew Congress Announcements - Shrew Leisure - Shrew Chat / Congress Hall - Shrew Project Proposals - Shrew Funding - Shrew Giftshop - © Copyright Disclaimer - Shrew Guestbook
---
International Colloquium on the Biology of the Soricidae II
14-18 October 2002, Powdermill Biological Station, U.S.A.





---

Contents:
Committee
List of Participants
Agenda and Program
Abstracts of Oral Contributions and Posters
Online Posters
Webcam
Discussion Forum
About "Advances in The Biology of Shrews" (First Meeting, 1990)
Groupphoto
Links:
---

21 February 2001 DRAFT
The Carnegie Museum of Natural History is planning to host an International Colloquium on the Biology of the Soricidae II.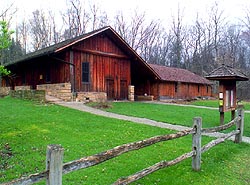 This Colloquium will be held at Powdermill Biological Station located in the Laurel Highlands of southwestern Pennsylvania, from 14-18 October 2002.
The Colloquium will cover all aspects of soricid biology (e.g., fossil history, systematics, anatomy, physiology, behavior, ecology, etc.).
We are tentatively planning a 5-day conference (4 days of technical sessions and discussions and 1 day devoted to sightseeing and relaxation). Daily sessions will include selected formal presentations and informal round table discussions.
Formal presentations will be limited to 20 minutes in duration and will include communication of results of original research or comprehensive reviews of a given subject. Round table discussions will deal with such topics as ecological problems unique to shrews, approaches and methodology for monitoring soricid populations, maintenance of shrews in captivity, and potential cooperative research programs, to mention just a few. These discussion periods may also serve as a good time to pursue in greater depth questions raised during earlier formal presentations. At the present time, we have avoided structuring evening sessions while we await your response; however, our inclination is to devote this time to informal discussions involving small groups and individuals dealing with more personal (sometimes anecdotal) research experiences. The evenings will serve as a more "relaxed" time in which we all can exchange ideas.
The cost of attendance will be approximately $400. This fee will cover the cost of registration, publication of the proceedings, transportation from the Pittsburgh International Airport to the Colloquium site and return, meals, and lodging at Powdermill. Because of the somewhat limited space (we can comfortably house about 55 persons in fine, rustic style) participation will be limited to investigators actively involved in aspects of soricid biology.
The Carnegie Museum of Natural History will publish, as a volume of proceedings, manuscripts of the papers presented during the formal sessions. All manuscripts intended for publication must be received no later than the first day of the Colloquium. Manuscripts will be first reviewed by an editorial committee and then forwarded for review to at least two outside referees selected by the committee. The editors for the volume will be Joseph F. Merritt, Sara Churchfield and Rainer Hutterer. The proceedings of this colloquium will be published approximately 1 year from the meeting date.
This will be the 6th international colloquium held at Powdermill Biological Station. Previous international colloquia held at Powdermill were:
The Colloquia Ecology and Taxonomy of African Small Mammals (1977),
Winter Ecology of Small Mammals (1981),
Advances in the biology of shrews (1990),
Ecology and Evolutionary Biology of Tree Squirrels (1994),
International Symposium on Horses and Humans (2000).
All meetings were highly successful and the published proceedings widely distributed.

Please communicate your interest by e-mail to
Joseph F. Merritt <jmerritt@westol.com>
I believe we can learn a great deal about soricid biology by sharing our experiences at this International Colloquium. The isolated nature of Powdermill Biological Station, coupled with the peak autumn leaf color, will promote an atmosphere conducive to stimulating discussions and interactions among participants.
Sincerely,
Joseph F. Merritt
Convener
Sara Churchfield, Rainer Hutterer, Boris Sheftel
Co-conveners





To view our facilities and programs please see the website for
Powdermill Biological Station:
http://www.clpgh.org/cmnh/powdermill
contact: Joseph F. Merritt <jmerritt@westol.com>
Updates and details of the meeting are available on
The Shrew Shrine:
http://members.vienna.at/shrew/bash.html
contact: Werner Haberl <shrewbib@sorex.vienna.at>
---
Preliminary Registration Form

Please print, detach and mail to
Joseph F. Merritt
Powdermill Biological Station
HC 54, Box 453
Rector, PA 15677, U.S.A.
or e-mail to jmerritt@westol.com
---
INTERNATIONAL COLLOQUIUM: BIOLOGY OF THE SORICIDAE II
---
1. Name:___________________________________________________________
2. Address and e-mail:________________________________________________
__________________________________________________________________
__________________________________________________________________
3. Do you plan to attend the Colloquium? If not, why?
___________________________________________________________________
___________________________________________________________________
4. Are you interested in presenting a formal paper? ___________________________
5. Tentative title of your presentation: Oral _____ or Poster _______ presentation? __________________________________________________________________
__________________________________________________________________
6. What topics might you suggest for round-table discussions? ___________________________________________________________________
___________________________________________________________________
___________________________________________________________________
7. Please list names ( with addresses and e-mail ) of other potential participants for the Colloquium:
__________________________________________________________________
__________________________________________________________________
___________________________________________________________________

---

---
This web is maintained by
Werner Haberl. Address: Hamburgerstrasse 11, A-1050 Vienna, Austria.
The Shrew Shrine © 2001
E-mail: shrewbib@sorex.vienna.at
URL: http://members.vienna.at/shrew
---

Shrew Photo by Cecil Schwalbe ©