Back to The Shrew Main Pages: Shrew Home - Shrew Bibliography - Shrew Photo Gallery - Shrewists on E-mail - Shrew Talk Newsletter - Shrew Facts & Stories - Shrew Links - Shrew Inquiries - Shrew Congress Announcements - Shrew Leisure - Shrew Chat / Congress Hall - Shrew Project Proposals - Shrew Funding - Shrew Giftshop - © Copyright Disclaimer - Shrew Guestbook
---
Shrew Culture, Myths, Stories and Poisonous Facts...
---
Stories about Shrews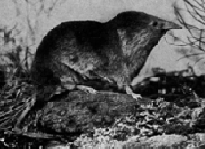 ---

Encounter with an African Forest Shrew - A Story by Gerald Durrell

"The Mice and the Shrew" - A Story by Althea Roderick
MORE COMING SOON! Please be patient and check this site again.
Contributions are most welcome!
---
Further literature:
(References taken from "The Shrew Bibliography")
---
---
This web site was created by
Dr. Werner Haberl. Address: Hamburgerstrasse 11, A-1050 Vienna, Austria.
E-mail: shrewbib@sorex.vienna.at