Back to The Shrew Main Pages: Shrew Home - Shrew Bibliography - Shrew Photo Gallery - Shrewists on E-mail - Shrew Talk Newsletter - Shrew Facts & Stories - Shrew Links - Shrew Inquiries - Shrew Congress Announcements - Shrew Leisure - Shrew Chat - Shrew Project Proposals - Shrew Funding - Shrew Giftshop - © Copyright Disclaimer - Shrew Guestbook
---
Go to Sub-Pages: Sorex araneus I - Sorex araneus II - Sorex alpinus & S. minutus - Sorex bairdi - Sorex fumeus & S. longirostris - Sorex cinereus - Sorex nanus & S. monticulus - Sorex hoyi - Sorex pacificus & S. sonomae - Sorex vagrans & S. bendirii - Sorex palustris & S. ornatus relictus - Sorex arizonae - Neomys fodiens -Neomys anomalus - Belly-Patterns - Crocidura suaveolens I - Crocidura suaveolens II - Crocidura russula - Crocidura leucodon - Crocidura flavescens - Crocidura sicula, C. grayi, C. olivieri - "The Blue Glove Photos" - Suncus murinus - Suncus etruscus - Suncus montanus - Blarina brevicauda & Cryptotis parva - Blarina carolinensis - Diplomesodon pulchellum - Notiosorex crawfordi - African Shrews - Albino Shrews & Colour Anomalies - Enemy - Caravanning I - Caravanning II - Tracks - Methods - Shrew Skulls & Skeletons - Ectoparasites - Entoparasites - Anatomy - Engravings & drawings
---
The Shrew Photo Gallery
These are copyrighted © Photos. All images and graphics contained in this homepage are for your viewing pleasure. They may not be copied or downloaded for any purpose.
---
Sorex arizonae
---
1) Arizona Shrew (Sorex arizonae)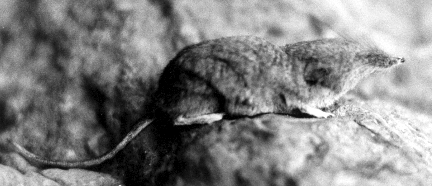 (Photo by Lee H. Simons © 1997)
Captured 30 July 1992. Arizona, Cochise County, Huachuca Mountains, McClure Spring in McClure Canyon -- a side drainage of Garden Canyon on the Fort Huachuca Military Reservation. Elevation ~1935 meters. Total length = 93.2 mm, 4.3 grams, male. Collected by Bill Van Pelt (Arizona Game & Fish Department). Photographed and prepared as museum skin & partial skeleton by Lee H. Simons (Shasta Natural History Foundation). Specimen permanently housed at the Museum of Southwestern Biology, Department of Biology, University of New Mexico, Albuquerque, NM 87131 (specimen number LHS 478, accession # 1995-365).
---

---
This web site was created by
Dr. Werner Haberl. Address: Hamburgerstrasse 11, A-1050 Vienna, Austria.
E-mail: shrewbib@sorex.vienna.at