Back to The Shrew Main Pages: Shrew Home - Shrew Bibliography - Shrew Photo Gallery - Shrewists on E-mail - Shrew Talk Newsletter - Shrew Facts & Stories - Shrew Links - Shrew Inquiries - Shrew Congress Announcements - Shrew Leisure - Shrew Chat / Congress Hall - Shrew Project Proposals - Shrew Funding - Shrew Giftshop - © Copyright Disclaimer - Shrew Guestbook
---
Go to Subpages: Poems & Texts / Auntie Shrew / Guosim & Log-A-Log / Pictures & Cartoons / Shrew Music / Shru-puter Art
---
Shrew Leisure Site (Poems, Cartoons & Artwork)...
---

Auntie Shrew & Teeny Weeny
---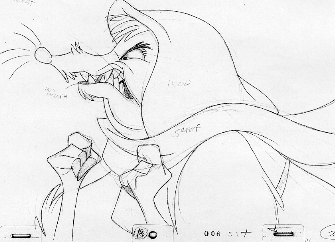 This is "Auntie Shrew" who is one of the characters in the animated movie "Secret of NIMH". In this film she is always looking out for everyone's welfare. She'd be a fantastic neighbour if she weren't so, well, shrewish.
Image taken from http://www.uidaho.edu/~davi9091/nimh.html Image copyright © 1982 Brisby LTD
The film: The Secret of NIMH, produced and directed by Don Bluth, was released in 1982, has been released on video cassette as recently as 1994 (...) The film's story is based (more or less) on the children's novel Mrs. Frisby and the Rats of NIMH by Robert C. O'Brien. First published in 1971, it won the 1972 John Newbery Medal for excellence in children's literature and has displayed the medal on its cover ever since. Robert O'Brien died in 1973, never seeing the film. His daughter, Jane Leslie Conly, has since taken up where her father left off, and has written two sequels, Racso and the Rats of NIMH and R-T, Margaret and the Rats of NIMH.
Description text taken from http://www.spydernet.com/raven/nimh.html.
---
Yes, Auntie Shrew really exists:
She runs a shop located in the Gazebo, Washington, USA: Auntie Shrew's Antiques.
This "Auntie Shrew" is a friendly woman with a diamond in her nose and another diamond in her tooth. Forget about her real name.
"If you ask by any other name, no one will know who you're talking about," she says. She prides herself on the local nature of her business. Virtually all antiques and collectibles she sells she finds within a 10-mile radius of the store, and she refrains from taking her goods on the antique show circuit. "I like that old-town feeling," she says.
The Gazebo: 816 SW 152nd, Burien, Washington 98166, USA. (Phone connection to Olde Burien: 206-4396486).
(Text taken from Highline). Another Link: Gazebo

When Teeny-Weeny Became Grateful
From: "Alison Baker" <abaker@jeffnet.org> Date: Thu, 18 Jun 1998 15:00:55 -0700
In Thorntown W. Burgess's "When Teeny-Weeny Became Grateful," I quote Jimmy Skunk, who says, "If Teeny Weeny [a shrew] tastes the way he smells, I for one don't want to try him."
"...It happened way back in the beginning of things that when Old Mother Nature had about finished making the birds and the animals, she had just a teeny weeny pinch of the stuff they were made of left over. Because she couldn't then and can't now bear to be wasteful, she started to make something. First she started to make it into a very tiny mouse. Then she changed her mind and started to make it into a tiny mole. Finally she changed her mind again and made it into something like each but not just like either, blew the breath of life into it, and set it free in the great world. That was Teeny Weeny, the first Shrew, and the smallest of all animals."
From "When Teeny-Weeny Became Grateful," in Burgess, Thornton W., MOTHER WEST WIND "WHEN" STORIES, Grosset & Dunlap (by arrangement with Little, Brown, and Company), 1917.
Thornton W. Burgess (1874-1965) was a children's author, naturalist and conservationist. He wrote more than 15,000 stories, most of them about animals, and published more than 180 books--the first was, I believe, OLD MOTHER WEST WIND, published in 1910. The Thornton W. Burgess Society was founded in 1975 or so in Sandwich, Massachusetts--their website is www.thorntonburgess.org
---
Copyright © Disclaimer
---
This web site was created by
Dr. Werner Haberl. Address: Hamburgerstrasse 11, A-1050 Vienna, Austria.
E-mail: shrewbib@sorex.vienna.at