Back to The Shrew Main Pages: Shrew Home - Shrew Bibliography - Shrew Photo Gallery - Shrewists on E-mail - Shrew Talk Newsletter - Shrew Facts & Stories - Shrew Links - Shrew Inquiries - Shrew Congress Announcements - Shrew Leisure - Shrew Chat / Congress Hall - Shrew Project Proposals - Shrew Funding - Shrew Giftshop - © Copyright Disclaimer - Shrew Guestbook
---
Go to Subpages: Poems & Texts / Auntie Shrew / Guosim & Log-A-Log / Pictures & Cartoons / Shrew Music / Shru-puter Art
---
Shrew Leisure Site (Poems, Cartoons & Artwork)...

Shrew Music & Cult Movie
---
A few bands have chosen shrews to be patrons of their names... Whether their music is shrew or not, I leave up to the audience...
---

"Shrew":
A band from Pittsburgh, PA.
According to one of the band members, Triple D, the group name was chosen because "you can feel the old English heritage in a word that is so short and yet forceful..."
"...Shrew is a band of musical veterans that jam once a week or so. We play in lots of different styles, with frequent guest artists and theme pieces. What we do is record these jams, mix them down to digital stereo, cut out a couple of representative "songs" from the session, and publish these songs to the site. It is sort of the bleeding edge of music media distribution - and here we are on it!"
Listen to them at http://www.shrewbot.com
Contact them at dac@adelphia.net
---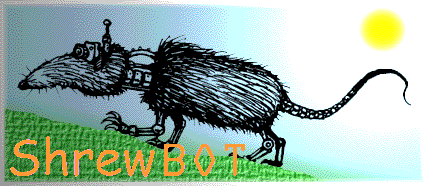 (Illustration by Peter Rublee ©)
---

"The Killer Shrews":
Gary Lukas...
... Links will come soon...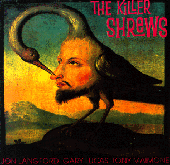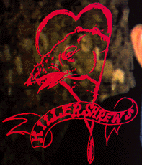 ---

The Shrew Kings:
From: Sylvie Cordier <S.Cordier@btinternet.com>
"Records certainly are available - 2 singles (Dr Love/ Shrew Kings play Brecht), 1 12" (Green eyed Kid) and a mini album (Sad but True). All out on Thin Sliced Records. Sessions for Radio One and Janice Long record of the week (Shrew Kings play Brecht) Band included ex founding member of other rocking songsters King Kurt. Once described as Stan Getz meets Stan Ogden. Band were a musical melange (melee?) of styles, ranging from the Velvets, through Gene Vincent to Jacques Brel. Virtuosos they may not have been, sexy they certainly were - well kind of... Inaugural performance at the Duma cabaret in Birmingham in 1983 farewell show in the Goldsmiths Tavern, New Cross in 1987.

Brief bright stars in the popsical fermament - sorely missed. "
---

The (Attack of the ) Killer Shrews (The Movie)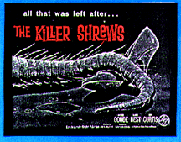 THE KILLER SHREWS (1959) James Best, Ingrid Goulde, Gordon Mclendon, Ken Curtis. "And the shrew devours everything. "Flesh, bones, marrow...everything." This movie's what low budget, '50s sci-fi was supposed to be all about. Research scientists develop a breed of giant, carnivorous shrews that terrorize a group of people on a small island off the coast of Texas. Colorful performances with Curtis playing a wonderful coward.
...The characters never really do anything except stand around and drink, then they get killed by dogs with wax teeth wearing bath mats. And of course, the hero is James Best (who can't play Dixieland Jazz), later famous as Rosco P. Coltraine on the Dukes of Hazzard.
"Any unusual experiment can produce unusual results."
Check out the movie poster at http://www.hillcity-comics.com/posters/poster197.htm
---

The "Killer Shrew" Drink
From the fantastic MST3K, here is Joel's famous "Killer Shrew" concoction.
Ingredients:
1 liter of Mr. Pibb 1 box of Good N' Plenty (movie size)
10 Circus peanuts
1 medium sized box of sugar cubes (20 oz.)
1 pkg. of Pez (or 2, or 3, and so on)
1 40 oz. bag of Peppermint Candies
25 Caramel Cubes (the chewy ones)
1 wind-up shrew 1 blender
Directions:
Throw all ingredients except the wind-up shrew into the blender, puree for 5 minutes or until the mixture forms a nice paste or "goo" Wind up the shrew and throw it in, take a sip and hope you don't pass out from too much sugar intake.
---
Copyright © Disclaimer
---
This web site was created by
Dr. Werner Haberl. Address: Hamburgerstrasse 11, A-1050 Vienna, Austria.
E-mail: shrewbib@sorex.vienna.at